Walks in and around Tongariro National Park
Adventure National Park is located near the base of Mt Ruapehu, at the intersection of SH4 & SH47 on the volcanic plateau. We have some wonderful walks from Adventure Lodge and can recommend and assist with planning your visit to the Tongariro National Park.
Fishers Track
A two hour return walk from the village along an old logging track through native bush to the hill top.
Taranaki Lookout
A two hour return bush walk from the Village. An easy grade walk up Fishers Track & then on to the Tupapakurua Falls Track. View of Mount Taranaki from the lookout.
Tupapakurua Falls Track
A four to five hour return tramp from the Village for fit, experienced and adequately equipped trampers to a less visited area. Continue past the Taranaki Lookout through dense bush with some large trees & steep terrain to a viewing point on the edge of a small canyon. The Tupapakurua Falls is a small stream dropping 60 metres to the canyon floor
Lake Rotopounamu
This is a picturesque lake on the side of Mt Pihanga. It will take you 20 minutes to walk one way to the lake or 2 hours around 5km loop track.
Ohinetonga Track
This is a 2-3 hour loop walk and is situated between Owhango and the Whakapapa River.
Taranaki Falls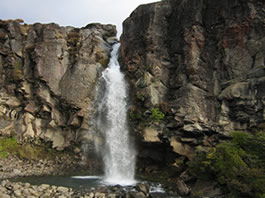 This is a loop track of 6 km and will take about 2 hours.
Taurewa Track
The track starts on the edge of the Tongariro Forest and is home to a wide variety of bird life it
is a 2-3 hour loop track.
Silica Rapids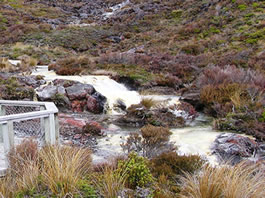 This varied track is 7km trek taking about 2.5 hours returning to your starting point via the Bruce Road.
Whakapapaiti Valley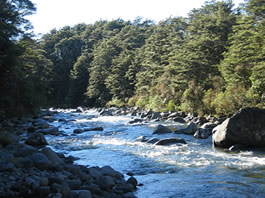 This trek begins on the Bruce Road at Scoria Flat Plan for 4-5 hours 11km one way.