Tongariro Freedom Package is a great value
Reviewed October 2017 via mobile
Tongariro Freedom Package is a great value
We stayed here and got the Tongariro Freedom package and it worked out really well. Their guide wasn't available but they booked us with another nearby company and even though the group was a bit bigger than we had hoped, we had a great time doing the crossing. We also had an early schedule and Jill was very accommodating and set out a breakfast for us even though it was the crack of dawn! Would recommend this for anyone doing the crossing who wants a no-hassle way to do it.
Awesome experience on the Tongariro Alpine Crossing
Reviewed September 5, 2017
Awesome experience on the Tongariro Alpine Crossing
Douglas and Andrea were awesome! Fantastic guides throughout, filling the hike with fun facts, tips and tricks, and also brought us through it safe and sound. Definitely recommend the hike.
And to Douglas and Andrea, thank you 🙂
Great stay, great hosts, and breathtaking surroundings (Tongariro a true must do of teh Nothern Island)
Reviewed July 6, 2017
Great stay, great hosts, and breathtaking surroundings (Tongariro a true must do of teh Nothern Island)
First of all what great team! John and Jillian really took great care of us. My boyfriend and I did the Tongariro Crossing and even with a last minute change to the programme due to the weather (everything was off set by one day) they made us feel right at home and adapting to our circumstances.
Location: situated in the small area within the National Park lodging, the property is well put together with common lounge area, guest kitchen, double rooms etc.
There are few options to eat nearby – out of which The Station is highly recommended.
Room: Clean and equipped with a small kitchenette. The bathroom might be quite cold as it relies only on the small heated towel rack, but to compensate Jillian has provided Manuka honey shampoo/soap/conditioner which is silky, sweet and smooth. The bed has comforters for the winter time and on an average the room temperature was pleasant.
Service: As mentioned before they made us feel right at home. As John does most of the driving to/from Mnt Doom and the other hikes and trails there are times in which the office is closed. Still they are easy to reach for any questions that might arise.
F&B: The packed lunch (and the packed breakfast should you start the day early) were really great. I have many allergies (lactose and egg intolerance, red meat intolerance incl. pork) and they were able to accommodate me quite well!
Wi-fi provided
Fantastic stay
Reviewed May 18, 2017 via mobile
Fantastic stay
We booked on the Tongariro freedom package which is just brilliant if you're wanting to walk the crossing. It includes breakfast on both days, a packed lunch for your hike and evening meal after you get back, as well as transport to and from the track. Gillian and John are so friendly and helpful, wonderful hosts! John provides the transport and gives so much information about the local area and advice for the hike. We were very lucky with the weather and had a wonderful day. When we got back we were able to relax our tired limbs in the spa bath and had our delicious evening meals delivered to our rooms. A brilliant experience and if you want to do the Tongariro Crossing, this is the place to stay!
Genuine Customer Service
Reviewed May 5, 2017
Genuine Customer Service
It's obvious that John and Gillian enjoy their work. They go above and beyond to ensure you have an enjoyable and safe experience in the National Park. My experience started before I have even booked a room at the Adventure lodge. Needing supplies for a multi day hike and arriving on a public holiday from Australia there were certain thing I couldn't bring but Gillian sourced these items for me locally and there was no question of where we would stay the night before our hike. But the service went deeper than that, John shuttled us to the start of our hike so our car and belongings stayed safe with them, all it took was a text message on our return and we were shuttled back to the lodge and just to top it all off had a beautiful brekky delivered to our room the next day to help us forget the dehydrated food we had lived on during our hike! Thank you John and Gillian!!
Get the awesome package deal for the Tongariro crossing
Reviewed April 26, 2017
Get the awesome package deal for the Tongariro crossing
We got the Freedom Package which included accomodation, meals and a bus to and from the crossing. Great place to stay with amazingly friendly staff who went out of their way to make our stay enjoyable. They provided free internet and spa, plus the lodge is a nice place to chill out in front of the fire. Would definitely go back there again.
Big Thank you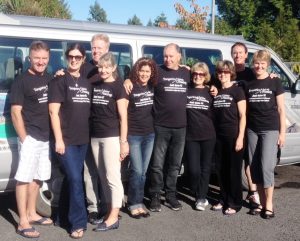 Just done it
Hi there Ron,Lorraine and family – I just wanted to email and say a
BIG THANK YOU again for the fantastic stay at the lodge this weekend just gone. (the Tauranga team). It was a blessed weekend from friends who wanted to treat me to this experience so many of the goodies that came our way WERE a surprize. I loved it all and the weather as well, was part of the plan. You do a great job there team, and that goes out to all you help in the kitchen and to the cleaners as well. Please tell them – THANK YOU. See you next time !!!!
Leanne