Mt Ruapehu Crater Walk
New Zealand's most accessible live volcano is Mt Ruapehu and you can climb this mountain this in summer. You can ride the chairlifts up the mountain and enjoy unsurpassed views over the central North Island.
The fast way to climb the volcano
You ride two chairlifts, 2020 metres above sea level, to the Knoll Ridge Chalet. Then follow up the knoll ridge T-bar line, and continue up the valley above the last t-bar pylon. At this point a narrow foot track zig-zags up the face and onto the Dome Ridge.
Follow the Dome Ridge to Dome Shelter. Dome Ridge is narrow and steep in places and care should be taken if there is ice on the track  You may require crampons and an ice axe.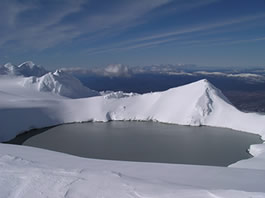 Guided Walks to the Crater Lake
Local guides take daily trips to the top of Mt Ruapehu to see the world famous Crater Lake. From the top of the chairlifts, you set off in a group to an altitude of 2,670 meters. From the top you get a fantastic view of the Crater Lake, nearby Mt Ngauruhoe, and on a clear day you can see Lake Taupo and both coasts.
Learn about the unique cultural and geographic features of the area.