Tongariro Alpine Guides – Winter Adventure
Hiking the Tongariro Alpine Crossing in winter is a very different journey to summer. The Blue and Emerald lakes are frozen with snow and ice frequently covering most of the track – but the vista from Red Crater on a beautiful day with the thermal steaming and volcanic features of Tongariro and Ngauruhoe surrounding you plus the outlook to Taupo is a truly magical experience. Most of the Tongariro Alpine Crossing is of modest terrain, however the section that crosses over Red Crater between South Crater and Emerald Lakes and Blue Lake to Ketetahi contains challenging and complex terrain.
To enjoy this winter wonderland, you need to join a guided group with the skills and the alpine equipment to assist you and provide you with the return shuttle. The environment at Tongariro can be cold, wet and windy so it is essential to be well dressed for winter conditions. The daylight hours are short and temperatures are often below freezing with the Tongariro Alpine Crossing passing through avalanche terrain. When you are looking for a guided trip make sure the guides are Outdoors Mark safety certified and Department of Conservation approved for Tongariro National Park.
Check for Winter Tongariro Avalanche Forecast

Enjoy the company of a local guide on the Tongariro Alpine Crossing all year round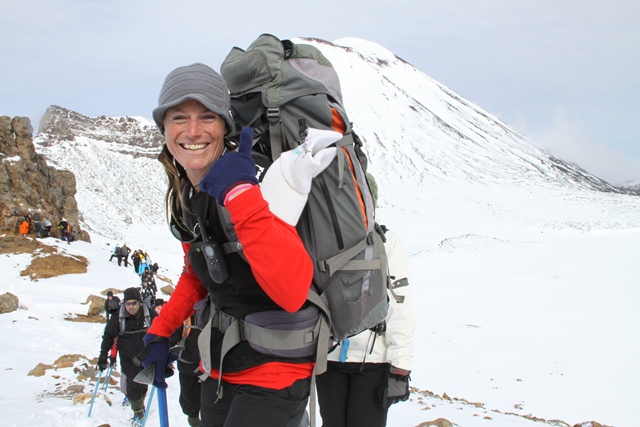 Owner and head guide for Tongariro Alpine Guides, Sarah Cate has worked in around the Tongariro National Park for the last 10 years.  She is very experienced in alpine conditions on the Tongariro Alpine Crossing, mainly guiding on the crossing in winter. In the summer time Sarah runs a successful exciting adventure kayaking tour on the Whakapapa River.
For the first time Tongariro Alpine Guides are offering private tours in and around the National Park. You have a few options – minimum of two person
One day guided tour on the Tongariro Alpine Crossing. (Includes guide, picnic lunch tax and transfers) $259.00NZD per person (minimum of two persons)
One night – sunrise tour on the Tongariro Alpine Crossing. (Includes guide, picnic breakfast tax and transfers) $279.00NZD per person (minimum of two persons)
One day guided in and around the Tongariro National Park to places of interest and not as challenging as the 19.4ks over Mt Tongariro. Walks options from 5 hours to 30 minutes (Includes guide, picnic lunch and transport)
There are many reasons to choose a guided experience, some seek the safety and reassurance they have with local knowledge, weather and track conditions.   People seek information on the history of the people and the landscapes of the region they are visiting, and find hidden gems along the way.  The staff employed by Tongariro Alpine Guides are knowledgeable, caring and have your comfort and safety in mind. They will tailor a quality experience for your day in the Tongariro National Park.

Tongariro Alpine Guides can personalise a tour just for you,  with a sunrise, sunset and summit options available. enquire now
Booking are essential