---
Tongariro Northern Circuit
The Tongariro Northern Circuit is considered a challenging hike, largely on open exposed alpine terrain, much of it on uneven track surfaces. Make sure you have good warm clothing, waterproof and windproof parka, leggings, comfortable well constructed hiking boots, hat, sunscreen, food, hut passes and check the weather forecast before you start off as the Tongariro is subject to sudden rapid weather change, you need to be prepared for all weather conditions. It is a Great Walk and tickets must be purchased before you depart book online. Gas cookers are installed in the huts.  We can arrange to drop you off at the Mangatepopo road end.
Mangatepopo Hut to Emerald Lake
The track follows the Mangatepopo stream up the valley.  A five-minute detour at the head of the valley leads to Soda Springs. The steep climb required to reach the Mangatepopo Saddle rewards climbers with views of the valley and if clear, Mt Taranaki to the west.   The climb up to Red Crater offers splendid views of Oturere Valley and Kaimanawa Ranges to the east. At the top of Red Crater a poled route to the left leads to the Tongariro Summit. The main track continues on past the rim of Red Crater itself.   A scoria covered ridge leads down to the Emerald Lakes. Just beyond Emerald Lakes the track branches right to the Oturere Hut or continues straight ahead to the Ketetahi Hut.
Emerald Lakes to Ketetahi Hut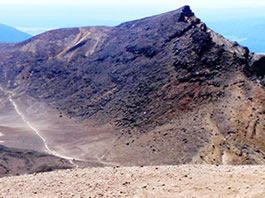 Emerald to KeteLeaving the Emerald Lakes the track crosses Central Crater which, like South Crater, is actually another drainage basin. A short climb leads up to the ridge beside the Blue Lake.  The track zig-zags down to the Ketetahi Hut.
Emerald Lake to Oturere Hut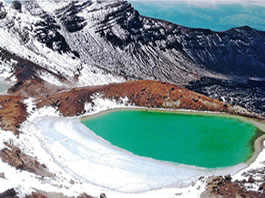 Winter Emerald Lakes. From Emerald Lakes the track descends steeply into the Oturere Valley with views of the valley, the Kaimanawa Ranges and the Rangipo Desert.
Oturere Hut to Waihohonu Hut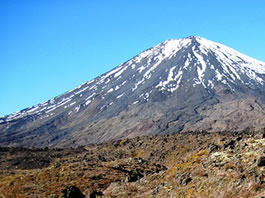 Oturere Hut to Waihohonu HutThe track gradually sidles around the foot hills of Ngauruhoe descending into a valley and crossing one of the branches of the Waihohonu Stream. Continue through a beech clad valley before climbing towards the ridge top. Waihohonu Hut is in the next valley.
Waihohonu Hut to Whakapapa Village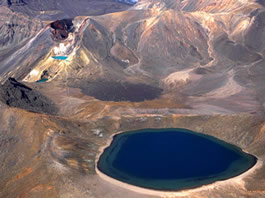 Waihohonu Hut to Whakapapa VillageThe track follows the Waihohonu Stream gradually climbing to Tama Saddle. Tama Saddle is exposed and can be windy in bad weather. Whakapapa Village is approximately two hours from the Tama Lakes junction. After the first hour the track meets the Taranaki Falls loop walk.     Transport can be arranged back to National Park.  We can arrange storage and car parking and accommodation for guests on the Northern Circuit.