Electronic signs on the Tongariro Alpine Crossing
The Department of Conservation restricted hikers from completing the crossing past blue lake for the summer of 2012-2013 after an eruption of the Te Maari crater on the 21st of November 2012. Mt Tongariro has two active volcanic vents – Te Maari Crater and Red Crater. Mt Ngauruhoe is also an active volcanic vent. There are Volcanic Hazard Zones around all these vents. (View larger (PDF, 105K) (opens in new window)

Ngāti Hikairo ki Tongariro, who have Manawhenua (territorial rights) over these lands, have delared a Rāhui (protective restriction) on entering this area. This upholds a traditional Maori custom (Tikanga Māori) which respects the Mana (prestige) of the Maunga (mountain) and to ensure the safety and protection of all people entering the area.
On the 22nd of October 2013 the Department of Conservation erected electronic signs at both ends of the Tongariro Alpine Crossing. These signs are designed to warn hikers of an increase in volcanic activity.
These signs (like international traffic lights) have three lights: red, yellow and green.
Red means track closed – volcanic risk too high for track to be open
Yellow means elevated risk – volcanic risk higher than normal but track still open
Green means track open – volcanic risk normal but not zero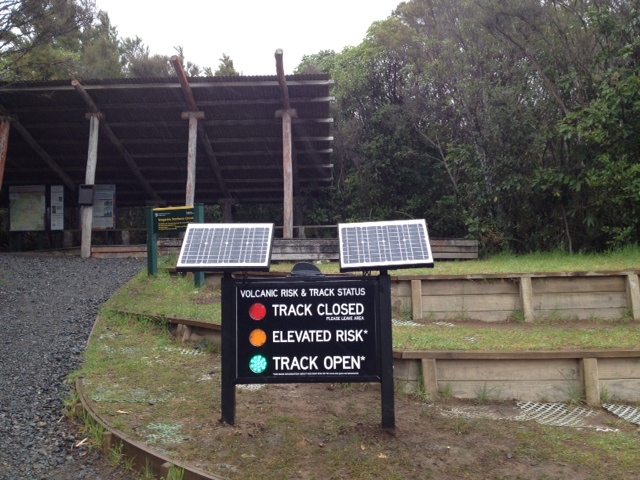 Your shuttle or transport driver will be aware of the track status.