Tongariro Crossing

The Tongariro Alpine Crossing is in the 80,000ha of Tongariro National Park New Zealand, a dual world heritage site. Accommodation, shuttle service, guides and great valued packages are available from National Park Village. Winter is a wonderful time to experience the magic of Mt Tongariro with a guide.

The Tongariro Crossing is regarded as the best one day hike in New Zealand, you can freedom walk the crossing or enjoy the company of an experienced guide. The Tongariro Crossing shuttle service will drop you off at the Mangatepopo end of the Track. You will start your trek across alpine meadows then up and over the moon like landscape of Mt Tongariro down into a pristine rain forest to the Ketetahi end of the track. The shuttle will pick you up from here. Bring your camera and cell phone!

Tongariro track transport leaves daily from National Park Village, weather permitting.(you will need to phone Gillian on 021351103 for weather update and what time shuttle departs – as this depends on wind conditions and numbers going Timetable and Rates
The Tongariro Track
The Tongariro Alpine Crossing takes you over the length of Mt Tongariro (19.4 Kilometres) about 7-9 hours. You start from the Mangatepopo Valley (carved out from the last ice age) and walk over towards the Ketetahi road as this minimises the climbing involved, you will be glad you took this options when you come down from Red Crater. For more track information click here to Read more details on the Tongariro Alpine crossing track.
Tongariro

Alpine Crossing Map and Fact Sheets

To download the DOC pdf files on the Tongariro Alpine Crossing in English, French or German click here to Maps and Fact Sheet

For your safety on the Tongariro Alpine Crossing you need to:

Plan your trip,
Tell someone,
Be aware of the weather,
Know your limits
Take sufficient supplies More information on Mountain Safety
Tongariro Alpine Crossing alternative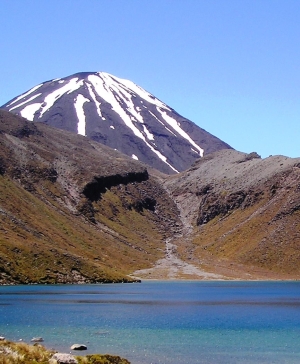 If you want a beautiful hike, not so high as the Tongariro Alpine Crossing then Tongariro Track Transport is offering shuttle service to the start of the Tongariro Waihohonu Track, you can enjoy part of the Tongariro Northern Circuit – one of the great walks in New Zealand
You will be dropped at the beginning on the eastern side of the Tongariro National Park.
You start in desert sands and walk between Mt Ruapehu and Mt Ngauruhoe in the stunning volcanic landscapes.

The track takes in the historic Waihohonu Hut, one of the original tourist centres in the Park. In 1920's the "Grand Tour" took passengers by paddle steamer up the Whanganui River to Pipiriki and horse-drawn coaches eventually delivering tourist to Waihohonu and on to Tokaanu.
From the Huts the track follows the Waihohonu Stream climbing to the Tama Saddle.
On reaching the saddle the track branches to the Tama Lakes two infilled explosion craters. (reported to be the oldest in the Park)
The lower Tama is a 10 minute side track while the upper Tama is up a ridge and is one and half hours return to the Track.

Whakapapa village is approximately two hours from the Tama Lakes junction.
After about an hour the track meets the Taranaki falls loop walk. To view the falls follow the lower track and track then continues beside the Waiere stream through mountain beech forest.

If you take the option of the upper Tama side track this is a 24km hike, longer but without the climbs on the Tongariro Alpine Crossing.